Welcome
"Dr. Bryce Young and Linda LeClaire are light-years ahead of our time. I've been teaching tennis professionally
for over twenty-five years and I've never encountered anything like this. In one short weekend
they transformed the best junior player in our program. They  put confidence in a context that will
revolutionize the way you think about it. If all the top juniors in America could spend time with Bryce and Linda,
we would be back to producing grand slam champions. I'm honored to have worked with them and proud to call them friends."
Michael Argabright, Staff Professional – Athens Country Club
The Confidence Factor
"Provocative!The sections on the mental and emotional bodies and the four elements of energy are powerful stimulators. The five energy traps and the conditions that trigger them resonate. There is a nucleus here. A transforming undercurrent. On its own The Confidence Factor may not change your life, but it can change the way you think about living in a positive, confident, productive way. Well done Linda. You hit the spot!" George Napier – Chairman & CEO Prince Sports, Inc.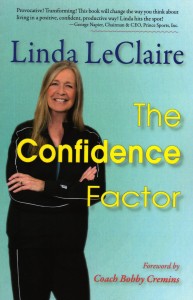 "Finally! A practical, easy to use book on how to activate confidence from within!  Linda LeClaire is the best Mental Coach I have worked with in my coaching career. Her work on Confidence is groundbreaking!  If you want your athletes, no matter the sport, to play with more confidence, then this book is for you. Linda knows coaches and she knows athletes. Its short, concise chapters offer step by step directions on how to activate confidence. This is exactly what coaches and athletes want and need.  I recommend it highly!" -Coach Bobby Cremins
College of Charleston Head Coach
Former Georgia Tech Head Coach
Three ACC Tournament Championships
National Coach of the Year
Top Seven Topics in this groundbreaking book on
how to activate Confidence:
Your Keys to Confidence-Seven steps to activate Confidence! Now!
Confidence vs. Competence!
Are you in a Slump? Get out of it Now!
Energy Traps! Keys to Keeping Your Energy Positive
Coaching Confidence-Daily Tips for Team and Player Confidence
Parents' Peak Performance Training-this section is a must for all parents (and grandparents)
of children in sports!
Taking Your Performance to the Next Level!
Order your copy of  The Confidence Factor today and see your game go to the next level!
Go to our Products page to see all of our Peak Performance Training books and CDs.
NEW: ONLINE COURSE
Are you an athlete who wants to compete with more Confidence and achieve the Winner's Edge but you struggle with Self-Doubt? If so, this course is for YOU!
I am going to show you how to do this without countless hours of work, without having to achieve success first, and without having to be perfect!
Here's a sample of what we'll cover in this Incredible Life Changing Course!
1. I'll not only tell you, I will take you through each step one at a time so you immediately experience igniting Confidence.
2. You'll experience Confidence as Energy! Your energy ignited in a certain way!
3. Confidence as Energy means you can never lose it! You can only choose not to use it!
4. I'll also show you why you keep doubting yourself!
You'll learn to never doubt yourself again! And MUCH, MUCH MORE!
They don't teach you in school what you will learn here! Don't miss this breakthrough Course that will finally show you how to ignite a Confidence you can depend on, anywhere, anytime and in any situation!
To sign up for this life changing breakthrough course go to:
"STOP DOUBTING YOURSELF: SIMPLE STEPS THAT TURN FEMALE ATHLETES INTO CONFIDENT ATHLETES">app.mastermind.com/masterminds/34583
Questions on private sessions or how to take advantage of this life changing online course: [email protected] or Text me: 612-269-1860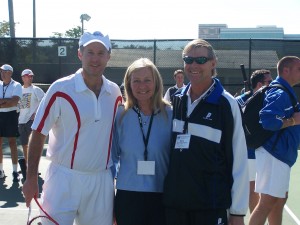 Bryce and Linda discuss their "Mastering The Mental Side" Program with USA Davis Cup Captain Patrick McEnroe after presenting at the ITA National Coaches Convention. Let us know if you are interested in this program for you.
Legendary Basketball Coach Bobby Creminssays "Linda LeClaire and Dr. Bryce Young are the best Sport Psychology Team I have worked with in my coaching career. They created a complete Mental Toughness Training Program for our College of Charleston Basketball team. This program definitely makes a difference in our season! I recommend them highly!"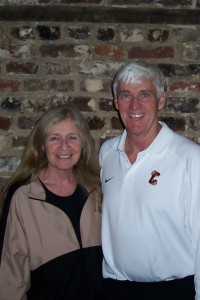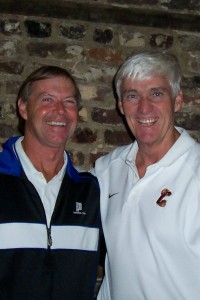 Our mission is to teach athletes and people in all walks of life to fulfill their highest human potential through performance psychology and energy enhancement.
Peak Performance Training with Linda LeClaire and Dr. Bryce Young is committed to empowering each individual with a personal program of self-awareness, self-acceptance, self-confidence and a philosophy that provides fulfillment of one's highest human potential through life and sport! Peak Performance Training accelerates learning and attaining your highest potentials daily.
Are you ready to perform at a higher level?
We look forward to creating the plan to get you there!